Open call: "Circus for Climate" laboratory in July
22.04.2022.
Open call for youngsters: "Circus for Climate" project
In celebration of the International EARTH DAY the team behind "Circus for Climate" is inviting youngsters from Zemgale and Latgale to register in the  "OPEN CALL" for Laboratory #1: Visual art, environment and activism. The leaders of the Lab will be the artist duo Ingrīda Pičukāne and Vivianna Maria Stanislavska in collaboration with the contemporary circus artists from "Acting for Climate".
This will be an opportunity for the youngsters to meet other active young people from both Latvia and Norway in which creating together will become a goal for a common future! Youngsters will be able to participate in discussions about climate change, to discover the secrets behind circus and comic book art, as well as to experience how your ideas develop into an actual performance. Apply, tell your friends about this and we will meet very soon in July!
---
For: Youth 14 – 16 y.o
Venue: Gārsenes pils, Jēkabpils novads
Date: 22 – 24 July 2022
Deadline for application: 31 May 2022
Participants will be provided with: accommodation, transport, meals and activities.
Participation is for free.
---
The project's "Circus for Climate", created by "Rīgas cirks"  in collaboration with "Acting for Climate", main goal is to explore the collective empowerment that a multidisciplinary approach to education, art and activism can provide. The aim is to create a space for youngsters, artists and environmental specialists to meet and to work together across different regions of Latvia around the topic of art activism for environmental sustainability.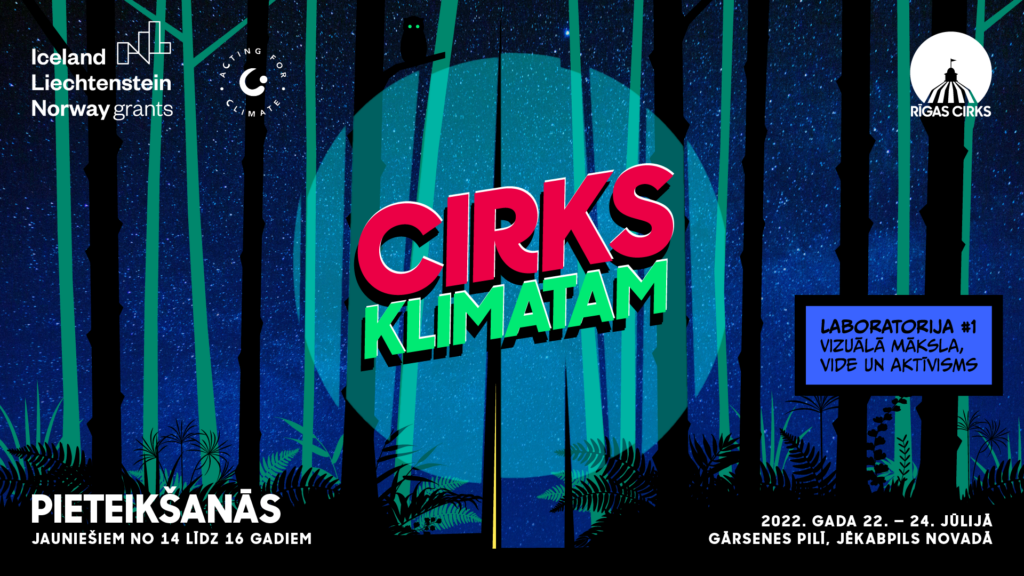 The first laboratory will focus on the different visual art techniques that can be applied for expressing ideas and thoughts about environmental, ecological and climate change themes, in such formats as posters, comics, zines among others. However, while creating the end-product of this laboratory,  in order to not fall back into the every-day patterns of consumption, it is also necessary for us to explore the different ways in which we can use and re-use already available and existing materials in a sustainable way.
Why a laboratory, one may wonder? The reason behind it is that a laboratory is an environment where experimenting happens, which is a fun and exciting process where the combining of different elements can create something unexpected and new. The team behind the project, as catalysts, want to create a reaction together with the participants! It's the youngsters' ideas, worries and thoughts, which will determine the course of the project and its final outcomes – the zine, the smaller acts, as well as the final performance.
This is a moment where the youngsters can take the spotlight in which to express and share their knowledge as well as to learn from others.
We believe this is a great opportunity for youngsters and so we would appreciate it if teachers, parents, youth workers and other activists could share this information with their youngsters and to encourage them to participate!
---
Follow us:
Facebook group: "Circus for Climate"
Instagram: circusforclimate
In case of any questions about the application please contact anna.eglite@cirks.lv
---
The project has been created with the support of the European Economic Area (EEA) Grants Financial Mechanism funding period 2014. – 2021. programme "Local Development, Poverty Reduction, and Cultural Cooperation" open call "Support for the Creation of Professional Art and Cultural Products for Children and Youth".
The project's total eligible costs are  231 636 euros. The project Nr.EEZ/2021/1/16 "Circus for Climate" created by SLLC "Rīgas cirks" in collaboration with "Acting for Climate" benefits from a financing of 196 890.65 euros from Iceland, Liechtenstein, and Norway EEA Grants and 34 745.42 euros from national co-financing. The project's realisation period is from 1 March 2022 until 31 July 2023.
More information about the EEA Grants Financial Mechanism can be found HERE.
---