Circus school – for adults
10.02.2022.
Aerial acrobatics / juggling classes at a circus school – for adults

Subscription for yourself or as a gift! Riga Circus School invites you to fulfill your dream of a circus and learn aerial acrobatics or juggling together with the trainers of the Riga Circus School – HERE.
Aerial acrobatics
Graceful movements, performed by circus artists look elegant, but they take a lot of effort, strength, flexibility and the illusion of ease. In air acrobatics classes a lot of attention is paid to building strength (especially the upper body strength)  as well as learning the necessary elements. These classes are a great way to build up your physical fitness, catch the pleasure of adventure and build confidence.
Juggling
If you are looking for ways to experience something new while improving your coordination and sharpness of mind, juggling classes is just the thing you are looking for. In these classes juggling is taught in a variety of ways, including juggling alone or in pairs, with juggling balls or other types of objects, as well as you will get theoretical information about performing juggling tricks. These classes are open to all kinds of expressions in the field of juggling – the trainer gives individual tasks to each student, allowing everyone to progress in their own pace and choosing favorite juggling equipment.
---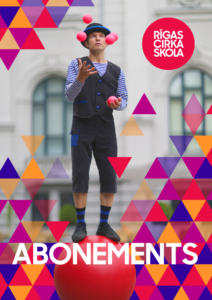 We are offering to buy a subscription to  4 or 8 classes (one class is 1 hour and 15 minutes long). The classes are held in Riga,  Zeļļu street 25, at the working day evenings from 20:15 until 21:30. 
Scheddule
• Juggling classes – on Mondays, Wednesdays;
• Air acrobatics classes – on Tuesdays (trapeze),
Fridays (silks).
After purchase, write an e-mail and book a place in
the group: skola@cirks.lv !
Prices:
4 classes: 35 EUR
8 classes: 50 EUR