RIGA ICCE keynote speakers
11.04.2022.
Just one month left until RIGA ICCE that is schedduled May 10 and 11. Let's get to know a bit more about the keynoters and their workshops!
---
Daniel Gulko from Circus Cirkör (Sweden) and artistic director at circus high school on his speech:
"This is not a talk about artistic thinking in circus education. Because we need a space of sensation before making sense. So this is a talk about making space in our bodies to feel something and using our vocabulary to express it to others. It is a talk about Circus, because circus is our vocabulary. And it is a talk about education because my goal as a teacher is inspiring others to want to be larger, to open outwards, to bloom like a flower. Circus is the food – it is the light and the water and the minerals in the soil. So I guess this is a talk about gardening and creating the conditions for growth as living beings."
Daniel's workshop will be dedicated to the exploring creativity and circus: "There are many ways to approach the circus creatively – in this workshop we will experiment with some tools for composition, ways to use games and improvisation. Circus can be any action that involves mastering risk, creating wonder, having fun. How to be/become a circus artist with whatever skill we have today? How to build trust and take risks safely?"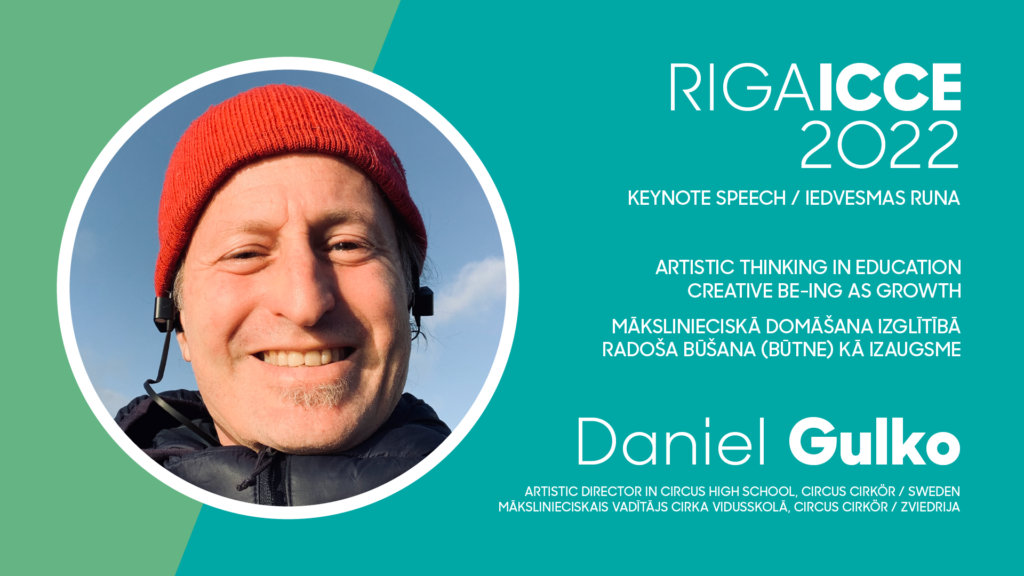 ---
Texas Holly from San Francisco Circus Center (USA) speech "Circus is for everybody! Inclusion in circus education":
"I want to inspire and offer practical tools for bringing an inclusive approach to circus education. Drawing on over two decades of experience working in historically excluded and under-resourced communities, I will tackle the big questions like: What does inclusivity mean in the realm of circus education? Why circus? Circus education as a vehicle for diversity, equity and inclusion in the classroom. How do I put inclusivity into practice in classroom settings? What are some helpful resources for more inspiration? Illustrated with funny, moving stories and portraits of my long-term engagement through the circus."
Texas Holly on her workshop "How to engage communities through circus arts?": "What does it mean to work with diverse groups of people outside of the circus community? In the workshop, we will look at interesting examples from experience within the circus field, as well as create new and innovative ideas for successful community engagement, taking into account the individual needs of your organization and the communities you wish to serve."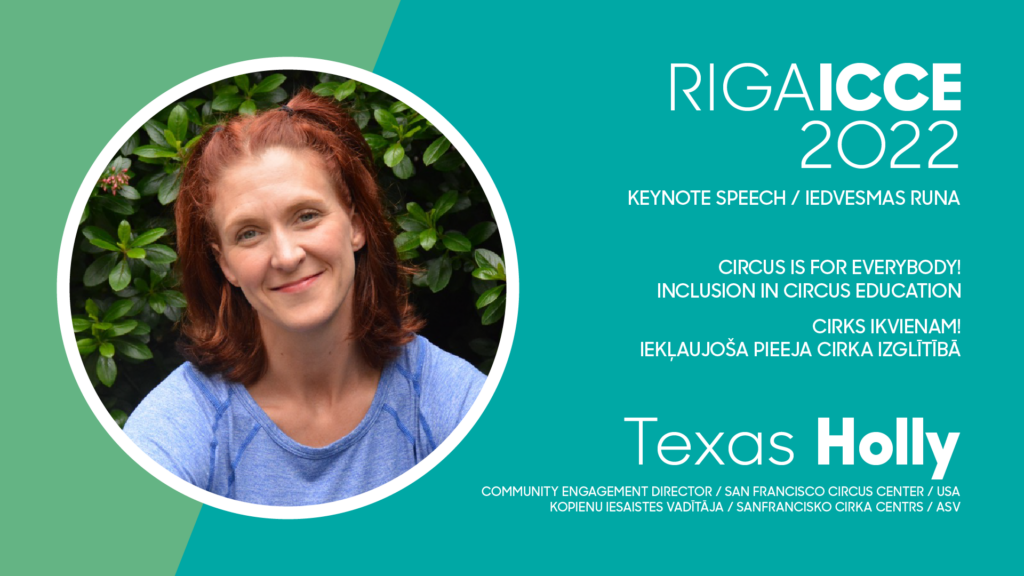 ---
Alisan Funk, Head of the Bachelor Programme in Circus at the Stockholm University of the Arts (Swden) is going to talk about physical literacy as an advocacy tool in circus: "Circus teachers and practitioners experience the power of learning circus first-hand. It can be difficult to explain circus to policy-makers, funding bodies and curriculum developers who have never participated in circus directly. The topic about physical literacy provides circus advocates as well as those who only start to be interested in circus with a framework that reveals particular values circus activities contribute to students and programs."
In her workshop session is planned to look at different physical literacy assessment tools, discuss different types of circus advocacy strategies, and workshop using these tools and strategies in scenarios proposed by the participants.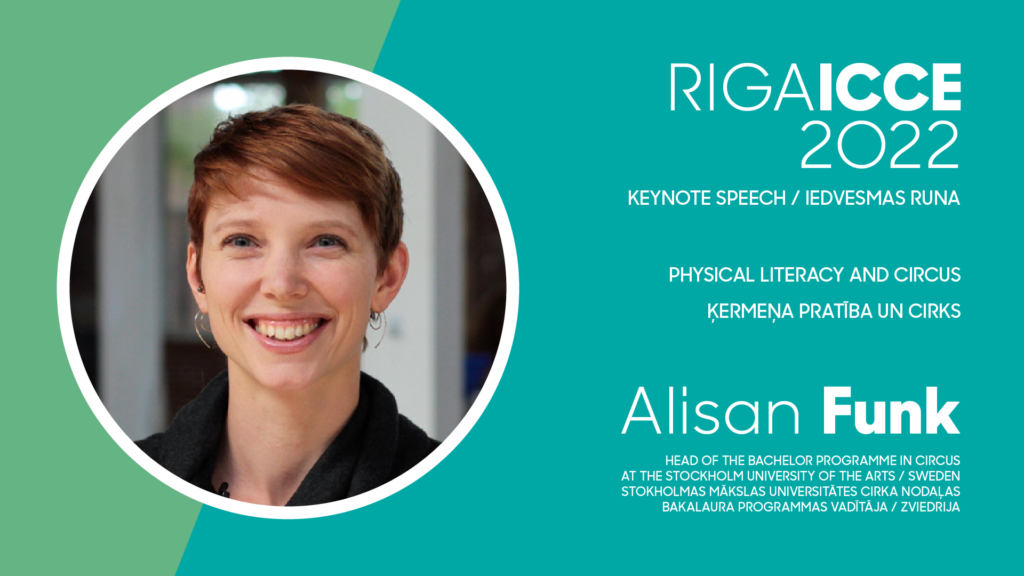 ---
RIGA ICCE programme and registration HERE.